It has almost been one year since we introduced the widely accepted Visual Invoice templates system into Studiometry. We're taking this great feature and expanding the capabilities for Studiometry 5.0. Users will now be able to create Visual Report templates using the updated WYSIWYG editor, giving the flexibility of the Reports features combined with the easy to use Visual Template editor.
In addition, Visual Invoice and Report Templates now have multi-page capabilities. Templates can easily have a cover page, or a specific page that repeats with new items until the Invoice or Report has been completely generated. Each page can then be previewed, exported individually, or printed as a whole. Printing multi-page Visual Invoices and Reports is a standard one-click process.
Studiometry automatically calculates how many lines of items fit onto each page based on the sizing of your data columns, and then produces the correct amount of pages until all items have been shown.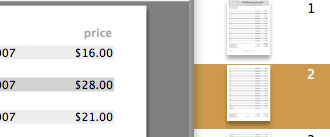 We've also added a few things to the Code-Based template viewing and printing. Multi-Page Code Based Templates can now be printed directly from Studiometry, and thanks to updated plug-ins, a few long-standing print display issues have been resolved. Code-Based previewing and printing remains a Mac-Only feature.
The addition of these new features greatly expands the power and flexibility of Studiometry, giving the end user even more control over the output of the program. Studiometry 5.0 is slated for a late Summer 2007 release, however the Beta Program registration will be opening soon. Also, be sure to keep an eye on the Studiometry Blog for more sneak peaks at upcoming Studiometry features!