Accounted 4 adds retina support, huge speed boosts, company overview, more.
Chicago, Illinois — June 3rd, 2015 — Oranged Software, LLC releases a major update of Accounted.
Accounted is a sleek, smart accounting application that helps you manage your company's books without having to be an actual accountant. Accounted 4 ships today with over 50 new features, improvements, and fixes.
Accounted 4 is insanely fast. It does some behind-the-scenes magic to split your data into fiscal years while still keeping everything in one file. So what does this actually mean? Accounts load way faster. Transactions and balances are calculated almost instantly. You can "load" a specific fiscal year, or show your entire account history without opening separate files.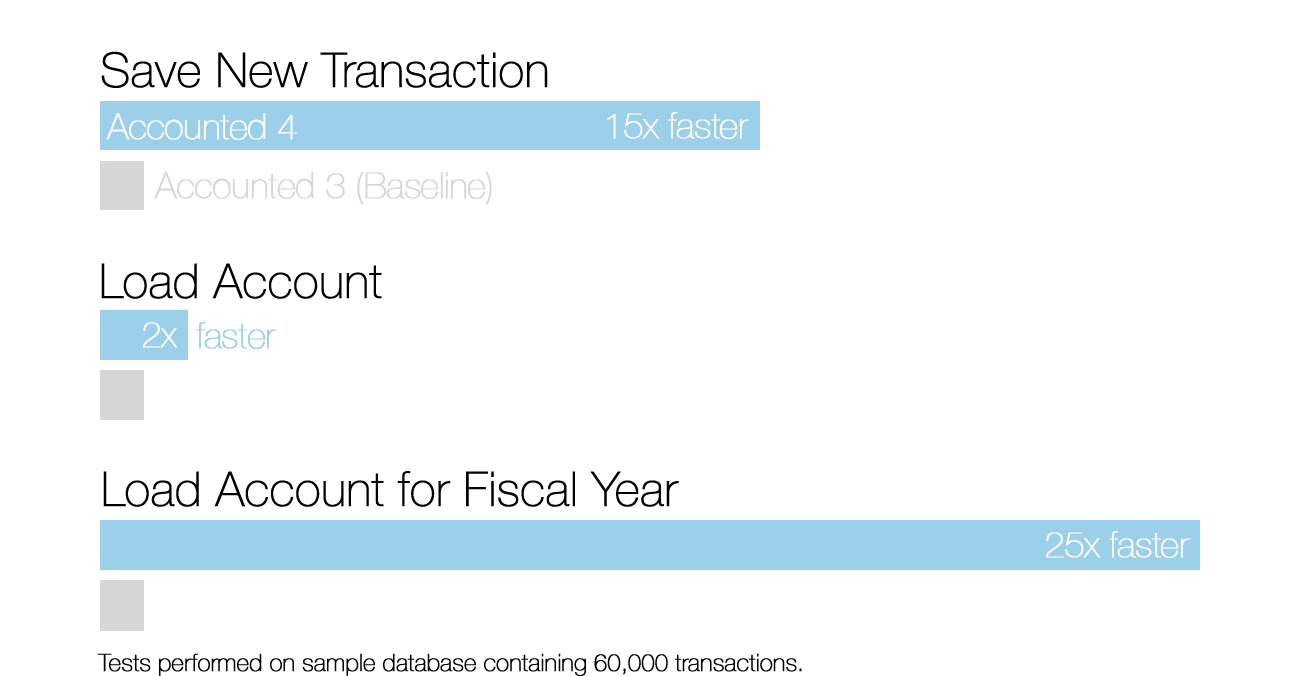 A new Company Overview gives a quick snapshot of activity over the past 30 days. You'll be able to see a visual representation of the top income and expense accounts, and the changes to balances in your bank accounts.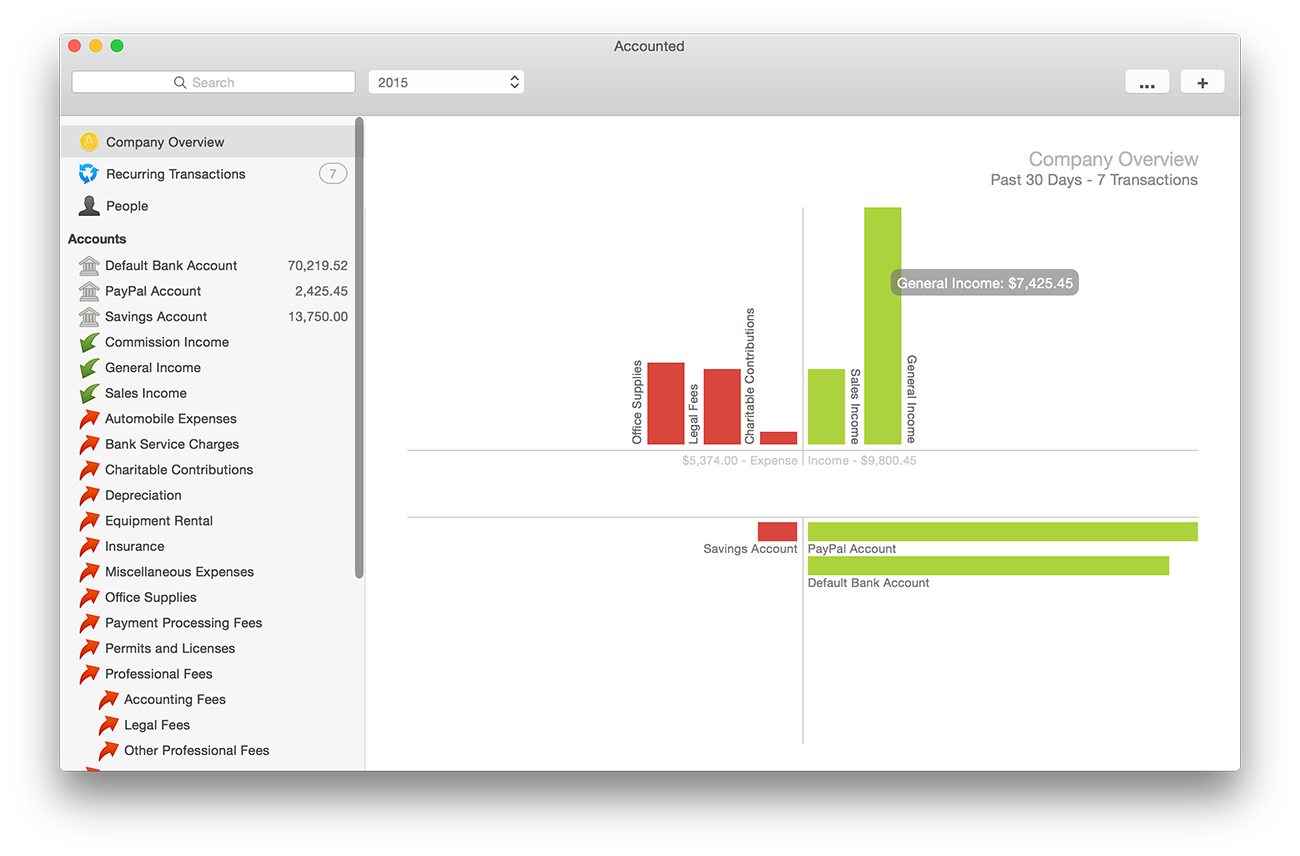 Full Retina Support and new Yosemite-inspired interface. Accounted 4 has a cleaner, sleeker interface inspired by Yosemite. Translucent cues, vibrant icons, and less clutter make Accounted 4 as pretty as it is powerful. Plus, all of the icons and views have been updated to take advantage of the beautiful screens on Retina MacBook Pro and iMac 5K.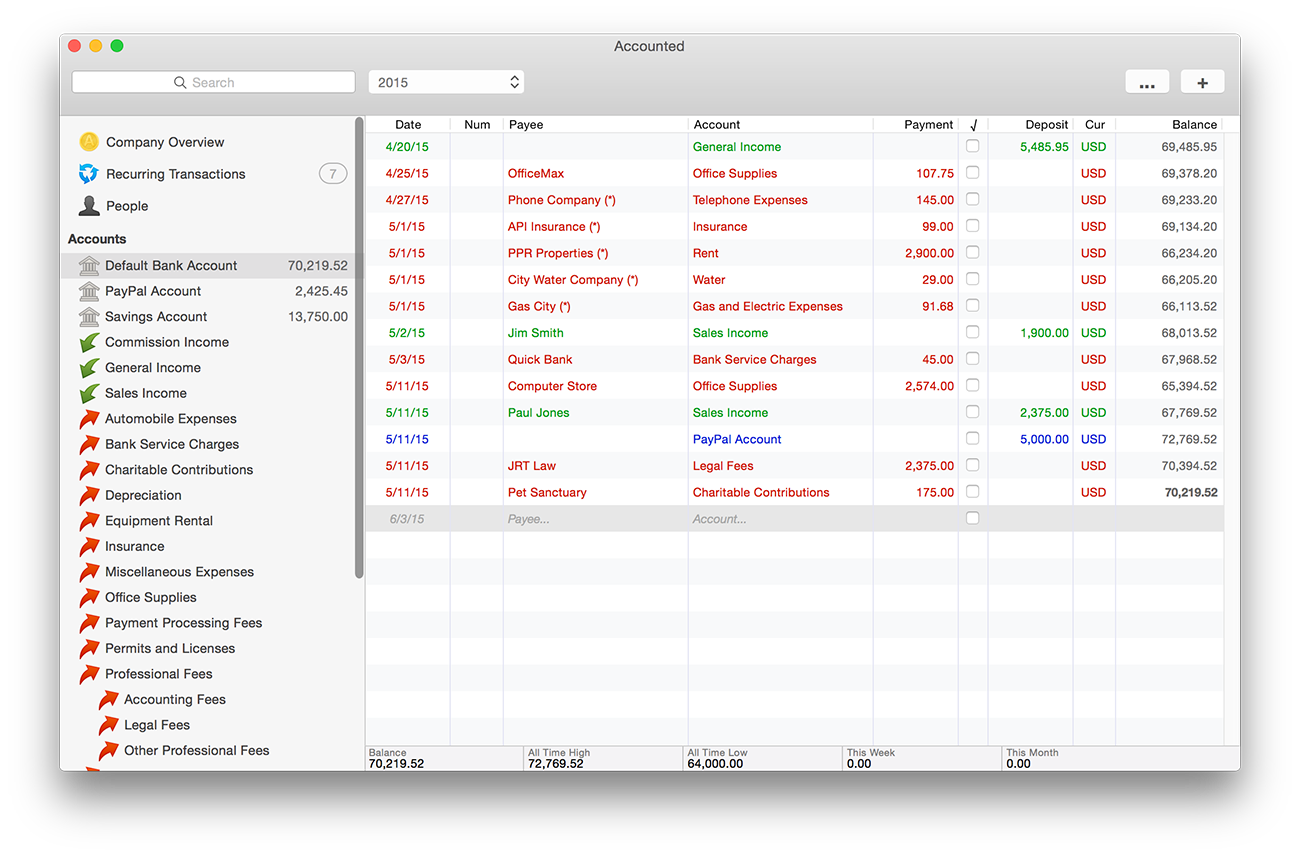 More Mac improvements include a transition to Cocoa. This gives Accounted a cleaner interface, full-screen capability, OS X Spellcheck, and compatibility with OS X Services.
Many other new features and enhancements have been added, including program-wide search, a new general ledger report, recurring transaction and people views in the main window, improved accounts payable and accounts receivable, and more.
The full version history is available at:
http://www.oranged.net/accounted/versionhistory/
For a closer look at the new features in Accounted 4, please visit:
http://www.oranged.net/accounted/whatsnew/
Pricing and Availability
Accounted is available for download today with a free 30-day trial. Download Accounted directly from the Oranged Software website at:
http://www.oranged.net/accounted/download/
Accounted 4 is available now for $79.95 USD. Upgrades from any older version of Accounted are available for $39.95. All licenses include free updates until the next optional major upgrade.
http://www.oranged.net/store/
About Oranged Software
Oranged Software, LLC develops award-winning cross-platform small business applications for Mac, Windows, and iOS. Oranged Software has two product lines: Studiometry is a powerful client and project management tool, and Accounted is an easy-to-use double-entry accounting application. Oranged Software also offers Studiometry Touch for iOS devices and Studiometry Express on the Mac App Store. Oranged Software, LLC is located in Chicago, Illinois and has users and partners around the world.
Contact Information
Tom Iwaniec
President, Oranged Software, LLC
tom@oranged.net
1 (877) 331-6182