Studiometry Touch 2.0 Released with new interface, Cloud syncing, iOS 9 compatibility, and much more.
Chicago, Illinois — October 19th, 2015 — Oranged Software, LLC releases a major update of Studiometry Touch.
Studiometry Touch 2.0 is the mobile companion app for Studiometry, built for iPhone, iPad, and iPod Touch. Take the best features of Studiometry with you wherever you go. Clients, projects, invoices, to dos, expenses, rates, and more all synced to and from your mobile device. With a familiar iPhone interface, you'll instantly feel right at home — even when you're not.
Studiometry Touch 2.0 is a complete rewrite of the app from the ground up. This version adds complete iOS 9 compatibility and a brand new interface, including optimized portrait and landscape orientation support for all device types.
Ready for Studiometry Cloud. Studiometry Touch 2.0 can now sync your data with Studiometry Cloud. Studiometry Cloud is a new service that acts as both your syncing backend and your Studiometry licenses. Easily synchronize data between any number of machines and iOS devices without having to set up a server or deal with firewall ports. Studiometry Cloud is a subscription-based service that includes syncing capabilities, native Mac, Windows, and iOS access, as well as partial web access.
Track Logs.The popular Logs CRM feature from Studiometry has made its way over to mobile. Easily log phone calls, meetings, emails, and more on your mobile device. Studiometry Touch 2.0 can even automatically capture Logs when placing phone calls from the app!
More Frequent Updates. Studiometry Touch is now built using the same development tool (Xojo) we use to create Studiometry and Studiometry Cloud. This gives us the ability to share code between our various platforms and save time developing new features. What does this mean for our users? That they will receive much more frequent updates to Studiometry Touch, and that they will see more features from the desktop app make their way to the mobile app.
Pricing and Availability
Studiometry 12 or newer is required for syncing with Studiometry Touch 2.0. Studiometry Touch 2.0 is available for download now from the App Store:
http://itunes.apple.com/us/app/studiometry-touch/id1047137238
Studiometry Touch is included free with an active Studiometry Cloud account. More details about Studiometry Cloud are available at:
http://www.oranged.net/cloud/
For non-Cloud users wishing to purchase traditional Studiometry licenses, Studiometry Touch costs $39.95/device/year. See the Studiometry Touch FAQ for more information.
About Oranged Software
Oranged Software, LLC develops award-winning cross-platform small business applications for Mac, Windows, and iOS. Oranged Software has two product lines: Studiometry is a powerful client and project management tool, and Accounted is an easy-to-use double-entry accounting application. Oranged Software also offers Studiometry Touch for iOS devices and Studiometry Express on the Mac App Store. Oranged Software, LLC is located in Chicago, Illinois and has users and partners around the world.
Contact Information
Tom Iwaniec
President, Oranged Software, LLC
1 (877) 331-6182





Screenshots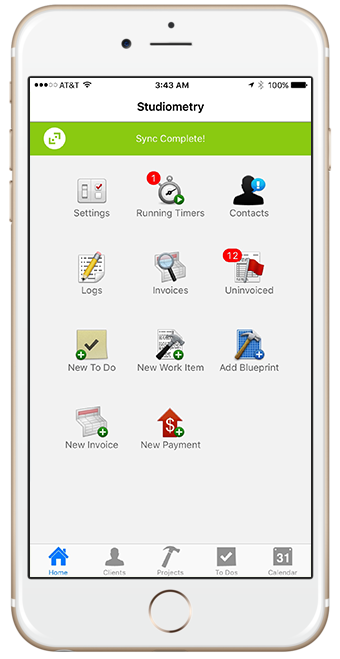 Studiometry Touch Home Screen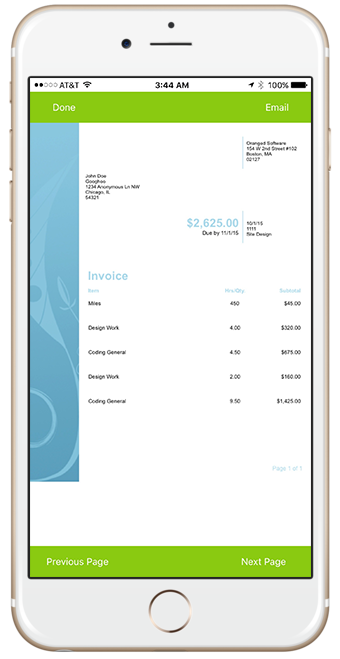 Customizable Invoice Templates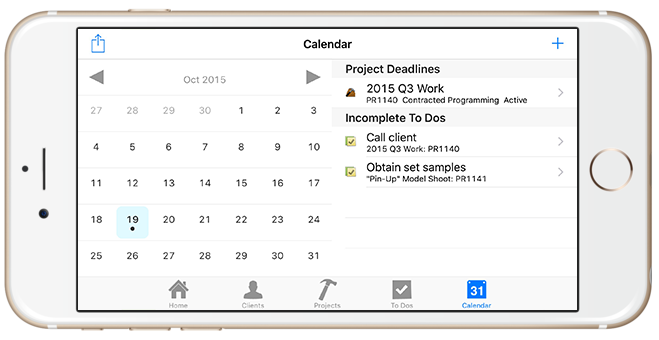 Mobile Calendar in Landscape Orientation