Studiometry 15 has huge performance improvements, new timer and invoice features, much more.
Chicago, Illinois  —  December 11th, 2018
We're very excited to release Studiometry 15 today, a huge update to our award-winning business management app. We've added over 100 user-requested features and improvements. Here are just a few:
Huge Performance Boosts
Studiometry 15 got a big tune up! Many Studiometry users have years of data that could slowly build up to slow down the app. We've focused on optimizing many areas that could cause bottlenecks during daily use. Studiometry runs much, much faster now for users with larger databases, and the improvements will still be noticeable for users with data of any size.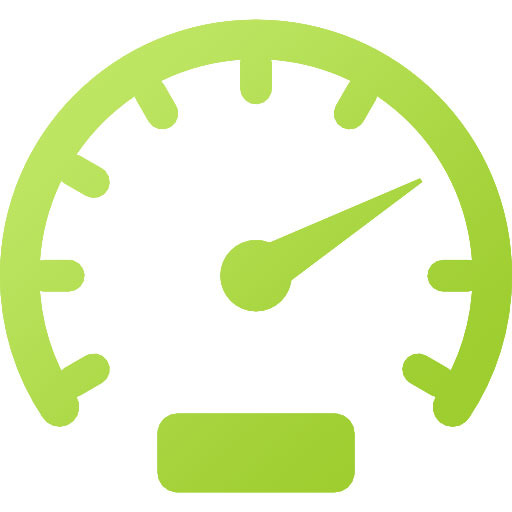 Studiometry Cloud: Mobile Web App (Including Android!)
Up until now, accessing your Studiometry data on Apple mobile devices (iPhones, iPads) meant installing the Studiometry Touch app, and access on Android was simply not possible. Now, you'll be able to go to cloud.oranged.net on any browser and log in to manage your To Dos, Timers, and Time Sheets. Any changes made will automatically sync to any copies of Studiometry on Mac/PC as well as any installed Studiometry Touch apps on iOS. It's a great convenient way to access a small subset of your data, and it's the first time Studiometry can be accessed in any way on Android!
Studiometry Cloud: Performance and Account Improvements
We've added a lot of performance and stability improvements to Studiometry Cloud syncing as well. Syncing a large number of changes will now show progress and be a much more consistently reliable process. We've also added improvements for account management, allowing you to download a copy of your current database, and more easily reset employee passwords remotely.
New Timer Features
We've made a lot of improvements related to timers. Smart Groups can now be created and shared to save filtered lists of timers based on various criteria. You can also view timer lists in condensed/detailed modes, and group items within each list by client, project, category, or employee. A new power user feature: in addition to the general notes field, you can now also track notes for each ran time interval on a timer.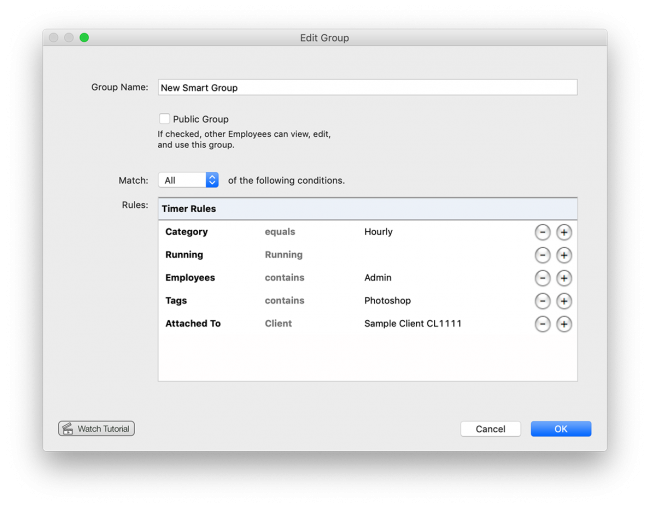 Invoice "Split Stages" to bill in parts
One of the most common questions we get is "how can I bill for part of this invoice?" We've had a few solutions, but up until now there hasn't been a great way of accomplishing this task. With Studiometry 15, you can set up your invoice "Split Stages" where each part of the invoice has a specified due amount and due date. Each Split Stage will have an amount due that is a percentage of the total, a fixed amount, or the remaining amount after all other parts. Studiometry will also automatically calculate the current stage for the invoice based on payments received so you can easily send updates to your Clients.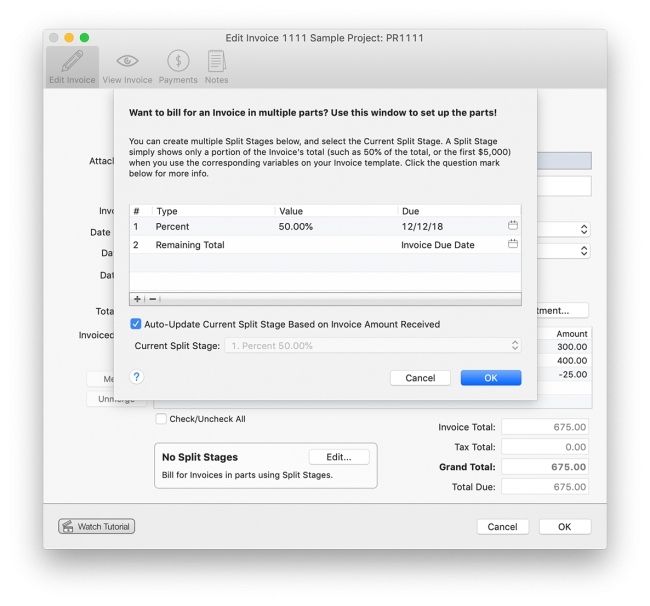 But that's not all…
Studiometry 15 adds countless improvements. Here are some highlights:
Reports can now be shown on Custom Summaries
Studiometry Cloud updated with various QOL enhancements for account management
Improved Employee permission capabilities
Abbreviations can now be linked to Debt/Credit types, making it easy to select by keyboard
Plus so much more! See the full version history
Available Now
Studiometry 15 is available today for purchase or as part of a Studiometry Cloud account. If you already have a Studiometry Cloud account, you can simply download and start using Studiometry 15 without any additional purchases or fees.
You can buy Studiometry 15 today and get free updates until Studiometry 16 is released. Upgrades from 14.x are only $69.95 USD, and new licenses start at $249.95. Five, ten, and twenty user packs, as well as multi-program bundles are available on our store.
Buy Studiometry 15 Download Studiometry 15