Studiometry 11.2 gets customizable calendars, 20% Off Sale.
Chicago, Illinois — August 12th, 2014 — Oranged Software, LLC releases a major update of Studiometry, free for registered 11.x users.
Studiometry is an award-winning client and project management tool used by small businesses and freelancers around the world. It is one of the only business management solutions that offers native apps for Mac, Windows, and iOS. Studiometry has received 4 out of 5 Mice from both Macworld and MacUser magazines.
Studiometry 11.2 ships today with several new, user-requested features that have been added to the enthusiastically-received Studiometry 11.
Customizable calendars can now be created in Studiometry. These can be used to color-code and filter items by type, employee, and associated groups. Setting up custom calendars will give you complete control over the content and display of items within Studiometry's calendar view.
For example, you can now color-code calendar items based on teams of employees. Each team will have its own calendar, and any items associated with a team will be displayed in that team's color. Multiple calendars can now be selected and viewed simultaneously, so team schedules can easily be compared at a glance.
Calendars can also be shared between employees using the new Manage Calendars function. Employees can assign their calendars to others, or subscribe to public calendars with your Studiometry database.
Many other new features and enhancements have been added, including the ability to assign employees to multiple to dos simultaneously, reordering items within groups, server and networking updates, and much more.
The full version history is available at:
http://www.oranged.net/studiometry/versionhistory/
For a closer look at the new features in Studiometry 11.x, please visit:
http://www.oranged.net/studiometry/whatsnew/
Pricing and Availability
Studiometry is available for download today with a free 30-day trial. Download Studiometry directly from the Oranged Software website at:
http://www.oranged.net/studiometry/download/
Studiometry, Studiometry Touch, and Accounted licenses, including upgrades from previous versions, are on sale for 20% off for one week, from August 12-19th. During this time, all licenses and bundles on our store are automatically discounted by 20%.
Studiometry 11.2 is a free update for registered users of Studiometry 11.x. Studiometry licenses never expire and do not require any type of subscription. New licenses start at $160.00 USD (regularly $199.95), with multi-user packs, site licenses, and multi-product bundles available on the Oranged Software store. Upgrades from Studiometry 10.x are $48.00 USD (regularly $59.95) per license. Discounted upgrades from all older versions are also available. All licenses include free updates until the next optional major upgrade.
http://www.oranged.net/store/
About Oranged Software
Oranged Software, LLC develops award-winning cross-platform small business applications for Mac, Windows, and iOS. Oranged Software has two product lines: Studiometry is a powerful client and project management tool, and Accounted is an easy-to-use double-entry accounting application. Oranged Software also offers Studiometry Touch for iOS devices and Studiometry Express on the Mac App Store. Oranged Software, LLC is located in Chicago, Illinois and has users and partners around the world.
Contact Information
Tom Iwaniec
President, Oranged Software, LLC
tom@oranged.net
1 (877) 331-6182





Screenshots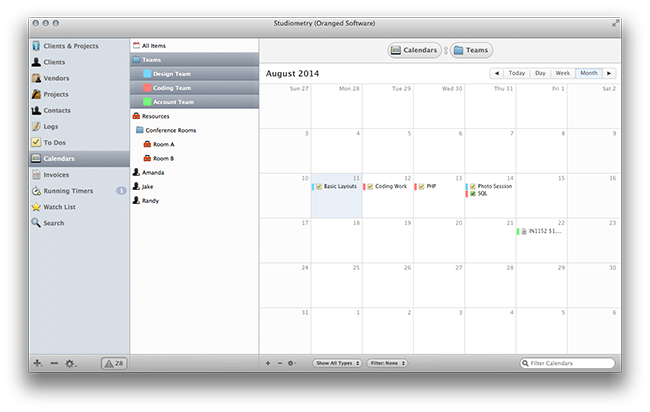 Create and view multiple customizable calendars.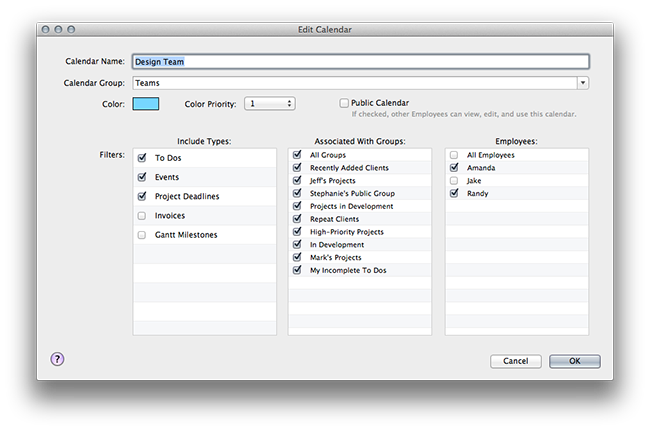 Edit calendar filters, colors, and more.