Studiometry gets a brand new user interface, adds over 120 features and improvements, and moves to Cocoa on Mac.
Chicago, Illinois — October 29th, 2013 — Oranged Software, LLC releases a major upgrade of Studiometry.
Studiometry is an award-winning client and project management tool used by small businesses and freelancers around the world. It is one of the only business management solutions that offers native apps for Mac, Windows, and iOS. Studiometry has received 4 out of 5 Mice from both Macworld and MacUser magazines.
Studiometry 11 ships today with a brand new user interface, adding over 120 features and improvements and transitioning to Cocoa on Mac. It is the largest and most dramatic update to Studiometry's UI and functionality since the program's initial release 10 years ago.
Studiometry 11′s interface was completely redesigned and rebuilt to be cleaner and more intuitive. A new three-column layout makes navigating your data fast and effortless. Customizable overviews have also been added to let you instantly see a snapshot of information for a selected client or project. For example, now when you select a project, Studiometry can immediately show you the project's budget chart, any incomplete to dos, and all associated invoices. You decide what information is shown and the order in which it appears. You can also quickly create and edit items directly within the overviews.
Studiometry for Mac is now built using Apple's Cocoa Frameworks. This provides many strong advantages over the previous Carbon Frameworks, including full screen support, system spellchecking, and system services. This transition has improved many of the interface elements as well, making Studiometry an even more solid native Mac app.
Studiometry 11 also features enhanced estimating functions. Projects can now be billed strictly based on their estimated amounts, while still tracking actual work and expenses behind the scenes to calculate costs and profits. The project estimating interface itself is now easier to use as well, with clear explanations of each estimating mode and assistance entering and viewing estimated items.
Many other new features and enhancements have been added, including a new blazing-fast custom summary engine, an improved calendar, new running timers lists with improved sorting and filtering options, the ability to group items and subtotals by project on invoices, and much more. To see more details about some of the bigger new additions, please visit:
http://www.oranged.net/studiometry/whatsnew/
The full version history is available at:
http://www.oranged.net/studiometry/versionhistory/
Pricing and Availability
Studiometry is available for download today with a free 30-day trial. Download Studiometry directly from the Oranged Software website at:
http://www.oranged.net/studiometry/download/
Studiometry licenses never expire and do not require any type of subscription. New licenses start at $199.95 USD, with multi-user packs, site licenses, and multi-product bundles available on the Oranged Software store. Upgrades from Studiometry 10.x are $59.95 USD per license. Discounted upgrades from all older versions are also available. All licenses include free updates until the next optional major upgrade.
http://www.oranged.net/store/
About Oranged Software
Oranged Software, LLC develops award-winning cross-platform small business applications for Mac, Windows, and iOS. Oranged Software has two product lines: Studiometry is a powerful client and project management tool, and Accounted is an easy-to-use double-entry accounting application. Oranged Software also offers Studiometry Touch for iOS devices and Studiometry Express on the Mac App Store. Oranged Software, LLC is located in Chicago, Illinois and has users and partners around the world.
Contact Information
Tom Iwaniec
President, Oranged Software, LLC
tom@oranged.net
1 (877) 331-6182





Screenshots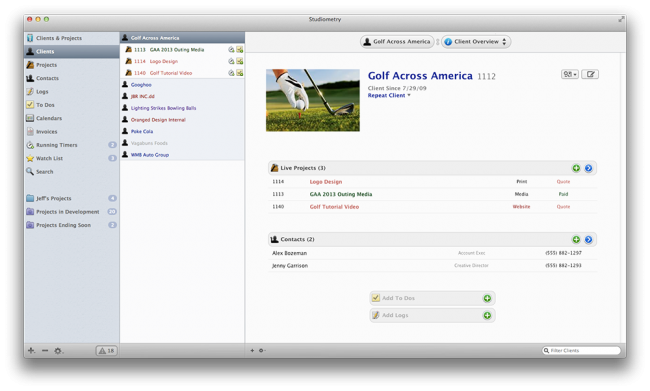 New three-column user interface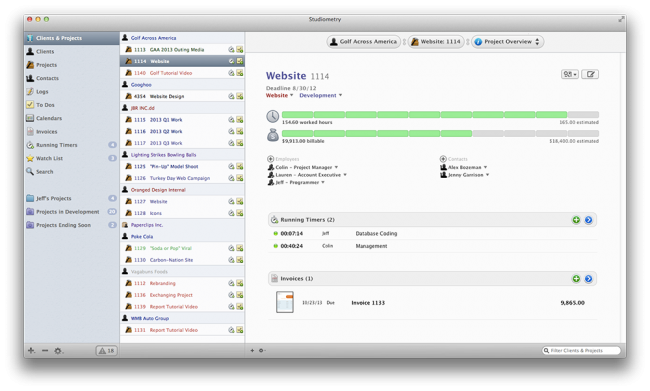 Client and project overviews show customizable pertinent information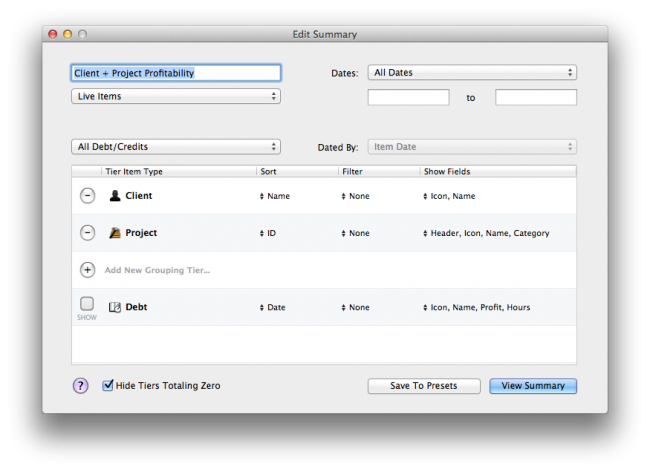 Custom summaries can be set up with multiple filtered, sorted, and formatted tiers of data.