Studiometry 12.1 Adds Customizable Receipt Templates.
Chicago, Illinois — November 18th, 2015 — Oranged Software, LLC releases a major update of Studiometry, free for registered 12.x and Studiometry Cloud users.
Studiometry is an award-winning client and project management tool used by small businesses and freelancers around the world. It is one of the only business management solutions that offers native apps for Mac, Windows, and iOS. Studiometry has received 4 out of 5 Mice from both Macworld and MacUser magazines.
Studiometry 12.1 ships today with several new, user-requested features that have been added to the enthusiastically-received Studiometry 12.
Receipts can now be branded and completely customized using Studiometry's powerful, built-in template editor. Studiometry can create receipts for incoming payments, and even have them automatically emailed to your Clients. Now these receipts can display your company logo, branded colors, custom notes, and anything else you want to include.
We've also updated and improved the program-wide Project summaries. You can now easily view invoiced amounts, purchase order totals, and operating profit numbers. Many other new features and enhancements have been added, including improved Cloud and traditional syncing reliability, more employee-specific viewing options, and new Payment-related variables for invoice, report, and receipt templates.
The full version history is available at:
http://www.oranged.net/studiometry/versionhistory/
For a closer look at the new features in Studiometry 12.x, please visit:
http://www.oranged.net/studiometry/whatsnew/
Pricing and Availability
Studiometry is available for download today with a free 30-day trial. Download Studiometry directly from the Oranged Software website at:
http://www.oranged.net/studiometry/download/
Studiometry Cloud is available for $15 per employee per month, billed annually. Or $18 per employee month-to-month. This price includes your license(s), so there is no need to purchase a traditional Studiometry license.
Traditional Studiometry licenses never expire and do not require any type of subscription. New licenses start at $199.95 USD, with multi-user packs, site licenses, and multi-product bundles available on the Oranged Software store. Upgrades from Studiometry 11.x are $59.95 USD per license. Discounted upgrades from all older versions are also available. All licenses include free updates until the next optional major upgrade.
http://www.oranged.net/store/
About Oranged Software
Oranged Software, LLC develops award-winning cross-platform small business applications for Mac, Windows, and iOS. Oranged Software has two product lines: Studiometry is a powerful client and project management tool, and Accounted is an easy-to-use double-entry accounting application. Oranged Software also offers Studiometry Touch for iOS devices and Studiometry Express on the Mac App Store. Oranged Software, LLC is located in Chicago, Illinois and has users and partners around the world.
Contact Information
Tom Iwaniec
President, Oranged Software, LLC
1 (877) 331-6182





Screenshots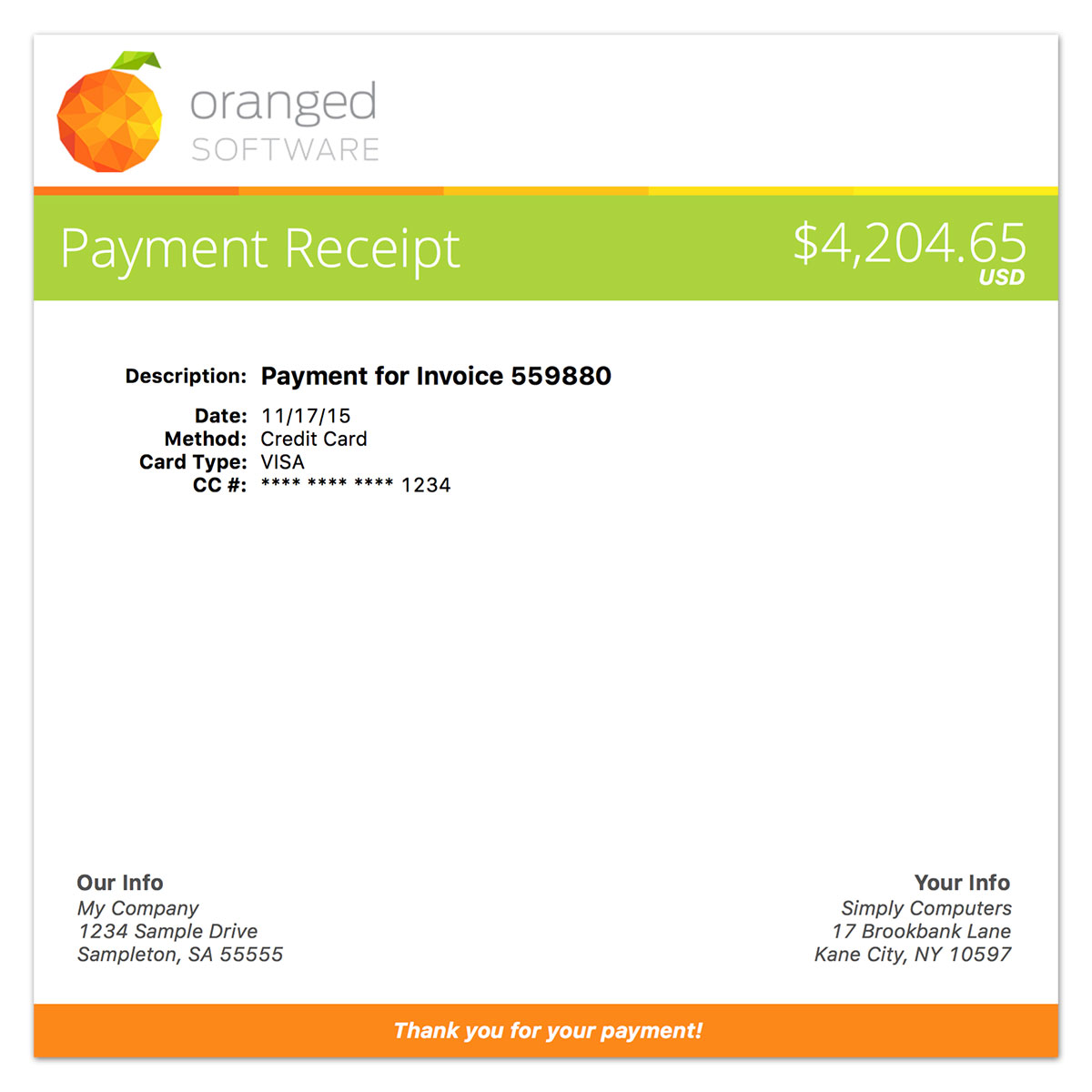 Completely customizable receipt templates.