Beautiful New Interface
Studiometry 11's interface was completely redesigned and rebuilt to be cleaner and more intuitive. We moved to a new three-column layout that makes navigating your data fast and effortless. The updated location bar makes it easier to visualize your current location in Studiometry and move between areas.
We've also moved key features to the main window to make them easier for you to access, such as the program-wide search, watch lists, and running timers. But the most impressive interface improvement of all? Studiometry's new client and project overviews.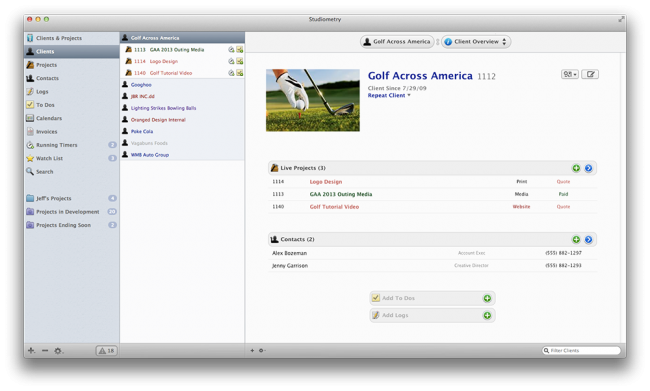 Client and Project Overviews
One of the main complaints about previous versions of Studiometry was having to click through all of the tabs to see everything associated with clients and projects. New to Studiometry 11, customizable overviews let you instantly view a snapshot of information for a selected client or project. For example, now when you select a project, Studiometry can immediately show you the project's budget chart, any incomplete to dos, and all associated invoices. You decide what information is shown and the order in which it appears. You can also quickly create and edit items directly within the overviews.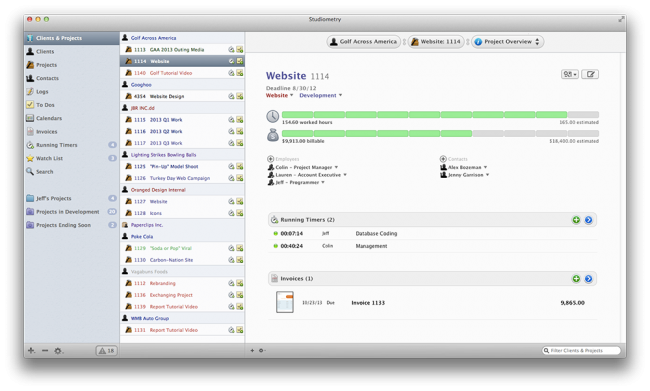 Mac Version Now Built in Cocoa
Studiometry 11 for Mac OS X is now built in Cocoa. This provides many advantages over the previous versions of Studiometry, including:
Cleaner, more functional interfaces and controls
Full screen mode capability on OS X 10.7 or newer
OS X Spellcheck
Compatibility with OS X Services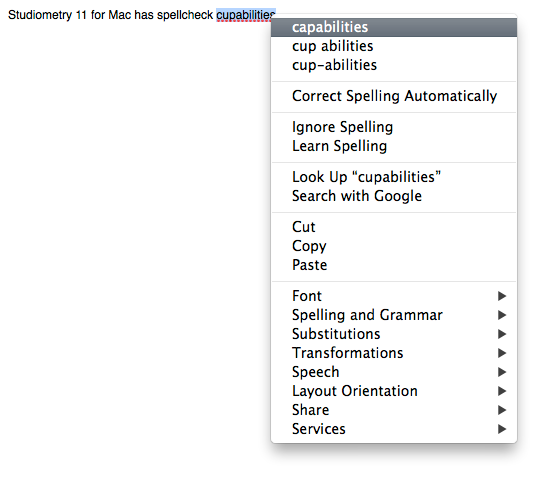 Custom Summaries 2.0
Studiometry's custom summaries have always given you incredible control over the reports you can produce. But the more complex they were, the longer they took to load. We completely scrapped the old summaries system and coded a brand new, blazing-fast summaries engine. Now, summaries that would have once taken minutes to load will be able to do so in mere seconds.
We've also redesigned the custom summary editing interface to make it simpler to use without sacrificing functionality. Produced summaries are also much cleaner and easier to read, and have even more customization options.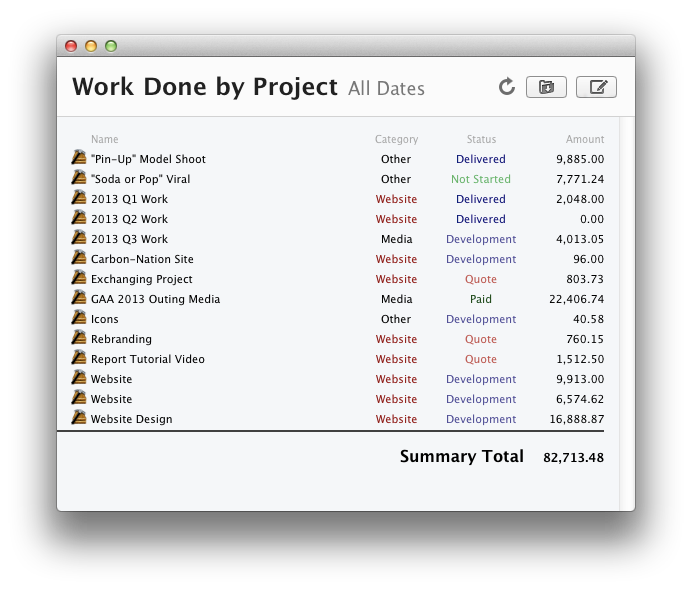 Sub-projects
Studiometry can now track and manage sub-projects. Easily organize and compartmentalize your planning, work, and billing into sub-projects to make your project data less cluttered. Just drag and drop one project onto another to create a sub-project!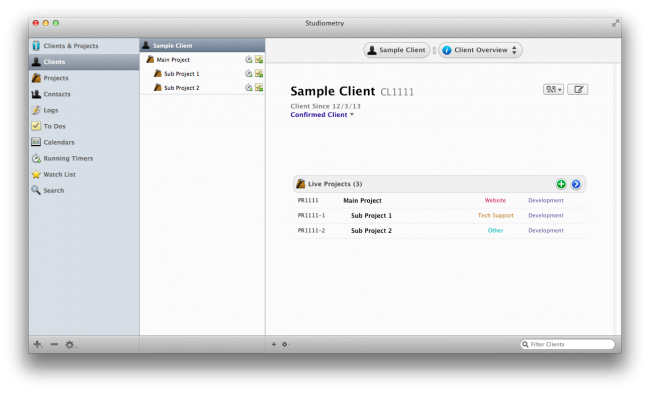 Resource Management
Another big addition is the ability to manage resources. Resources include anything that you can reserve for an event or task, such as conference rooms, equipment, etc. You can view their availability right in Studiometry's calendar. Studiometry will alert you of scheduling conflicts and make suggestions for changes.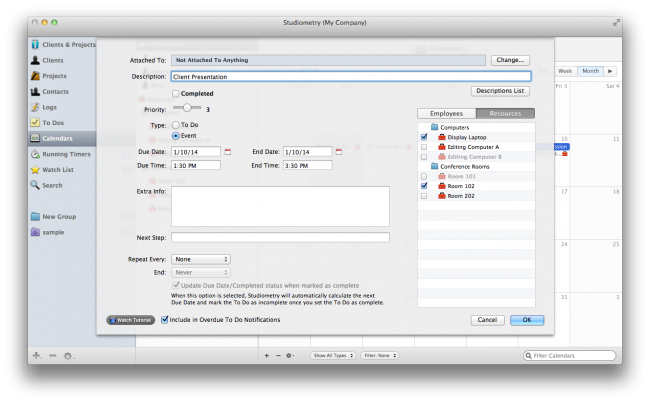 Enhanced Estimating Functions
We've improved Studiometry's built-in project estimating functions and added several new user-requested features as well. The project estimating interface is now easier to use with clear explanations of each estimating option. A new estimating mode was added that lets you send invoices based on estimated instead of tracked work, letting you easily send invoices that match your estimates exactly — all while helping you to track actual work, hours, and costs internally.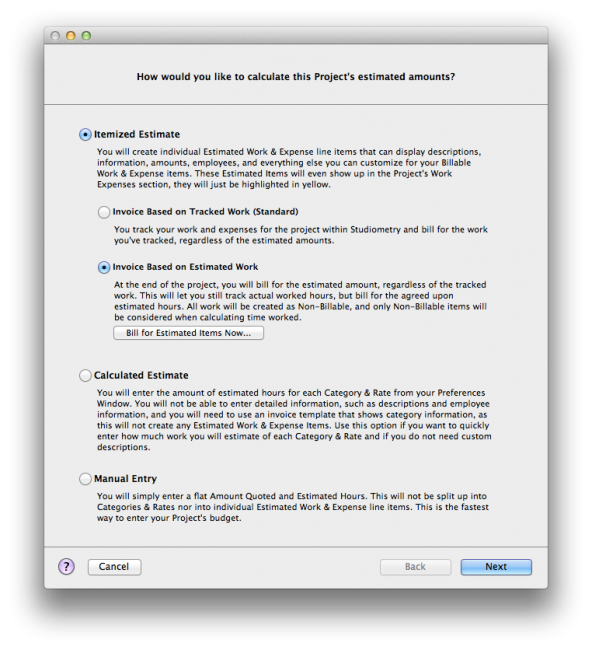 Plus, Over 200 More Improvements
Studiometry 11.x adds countless improvements. Here are some highlights:
On-the-fly summaries let you instantly create custom summaries focused on a specific client or project.
The new running timers view includes filtering options and searchability as well as a cleaner overall look.
A cleaner, easier-to-read calendar displays colors for all items
Custom images can now be added to clients and projects. These will appear in the overview and can be used on invoices and reports.
Visual invoice or report templates can now group items by project and include a header and footer for each.
The watch list has been improved, cleaned up, and moved into the groups list for easy access.
You can now add a default address and phone information for a client that will be used when creating invoices and reports for contacts without address information.
Plus so much more! See the full version history.
Available for immediate purchase!
You can buy Studiometry 11 today and get free updates until Studiometry 12 is released. Upgrades from 10.x are only $59.95 USD, and new licenses start at $199.95. Five, ten, and twenty user packs, as well as multi-program bundles are available on our store.
Buy Studiometry on the Oranged Software Store









&nbsp