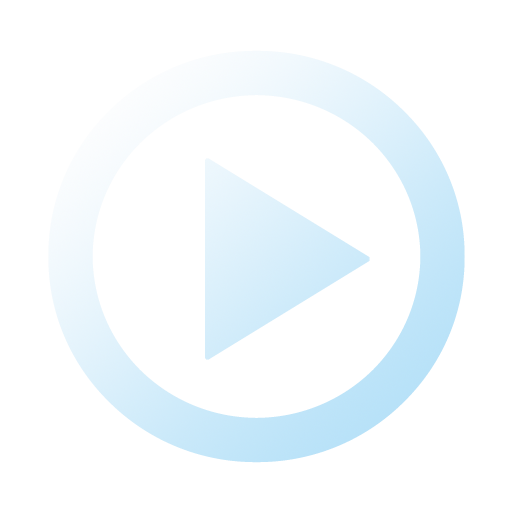 Watch the Studiometry Training Videos
We have over 20 training videos detailing everything from the basics to the advanced concepts of Studiometry. Watch and learn!
Hours and Expenses
Stay on top of work in progress with running timers. Easily track work in real time using your rates, clients, and projects. Or, if you want to enter work after the fact, use one of several other timesheet and work entry methods.
Calendars
See what's on your schedule with Studiometry's built-in calendars. Quickly view company-wide or employee-specific calendars for upcoming deadlines, tasks, events, invoices, and milestones.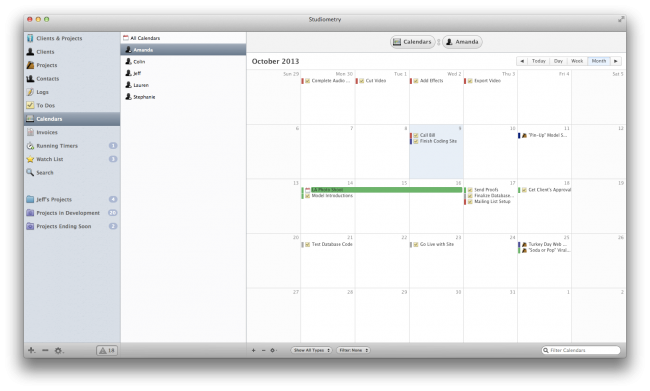 Budgets and Actuals
Track estimated hours and quoted amounts for your projects using your choice of several different estimating options. Once you have entered estimated amounts, Studiometry will present several visual representations of your progress and budget status. You can even view a comparison of estimated-to-actual work for each category or employee.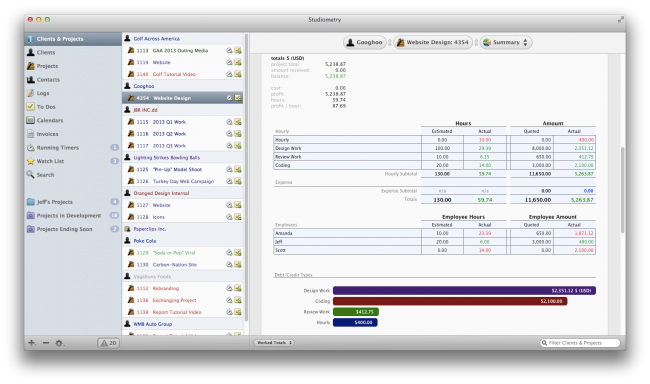 Notifications and Employees
Add one or more employees within Studiometry with customizable notification settings, preferences, and granular permissions. Studiometry will alert you when items are upcoming or overdue, when an automated item is generated, or when another employee makes changes to trigger a customizable notification event.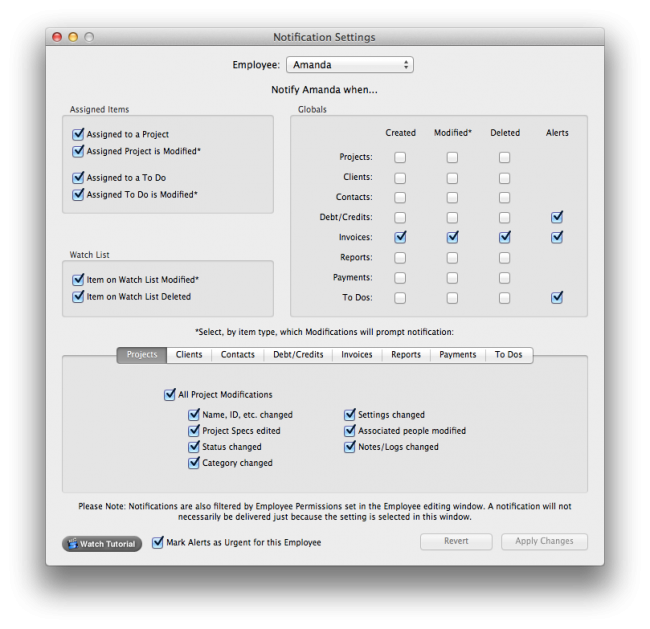 Customizable Invoices, Reports, and Estimates
Use one of Studiometry's built-in templates, or create your own. Our WYSIWYG Template Editor lets you drag and place the elements of your personalized invoices to achieve the exact look and function you need. Hundreds of available variables let you easily display any of the data stored within Studiometry on your invoices, estimates, and reports.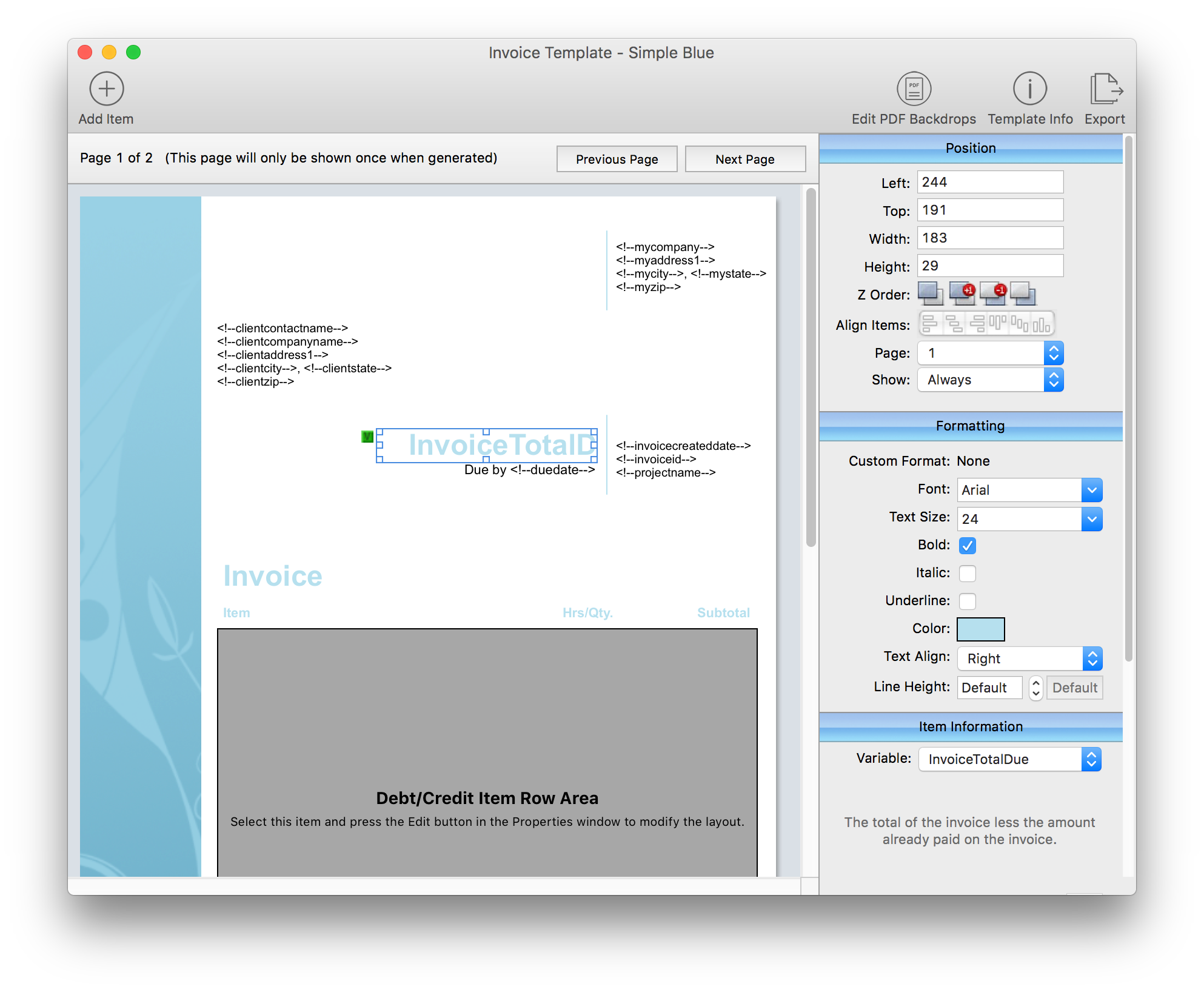 Hundreds of Preferences and Settings
Your business is unique, and your Studiometry setup can be, too. The preferences window gives you countless options and settings (many which Studiometry learns based on your use of the program) to tailor Studiometry to your needs. If you use multiple currencies, have a complicated tax setup, or want to show specific information on an invoice, Studiometry can be configured to manage all of these tasks.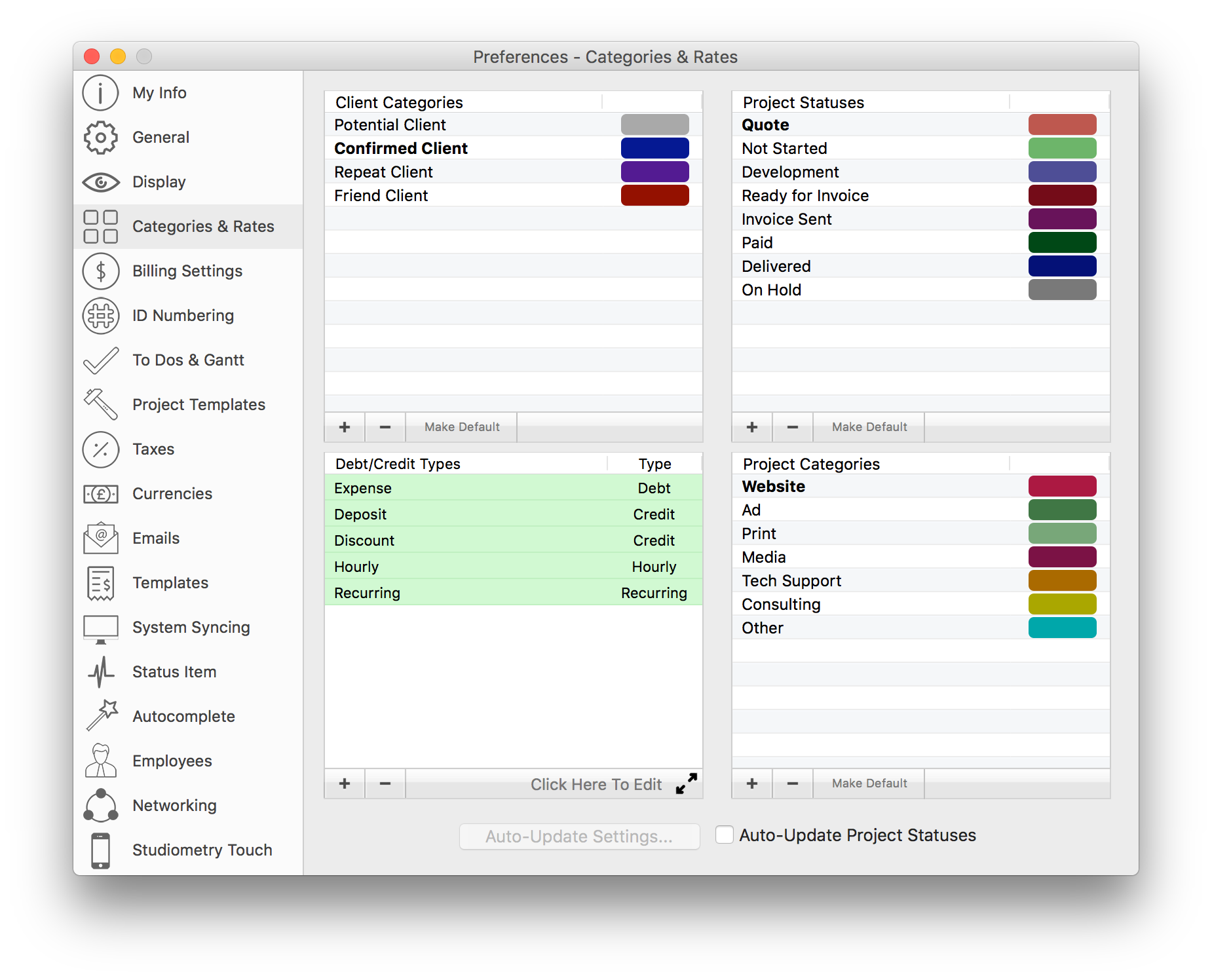 Powerful, Customizable Summaries
Studiometry's incredibly powerful summary engine that lets you group, filter, tier, and sort information to produce extremely detailed reports. Create summaries with subtotals for nearly all information in Studiometry, including: work, invoices, payments, projects, clients, date ranges, categories, employees, and more. Save your commonly-used summary setups and easily access them later.
Custom Summary Setup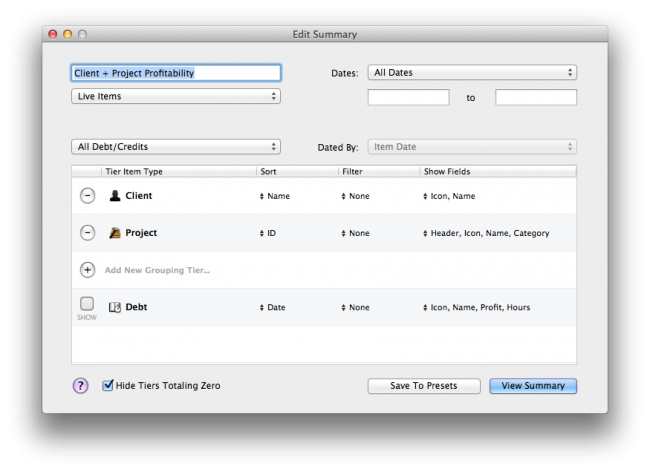 Generated Summary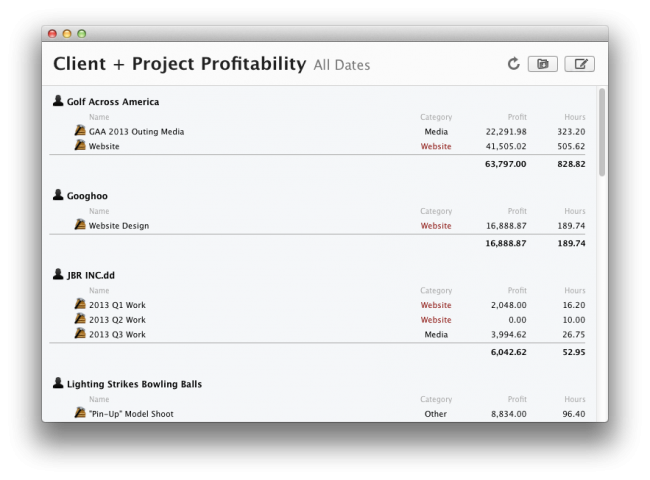 Automate Expenses and Invoices
Create Recurring Expenses for projects using fixed/variable amounts and customizable frequencies. These can be linked to existing expense categories. Recurring expenses are great for tracking maintenance fees, membership dues, and many other repetitive expenses. You can then configure Studiometry to automatically bill for these items with Automatic Invoice Schedules. These schedules can target all projects within a given category or status, or you can select specific projects to be automatically invoiced.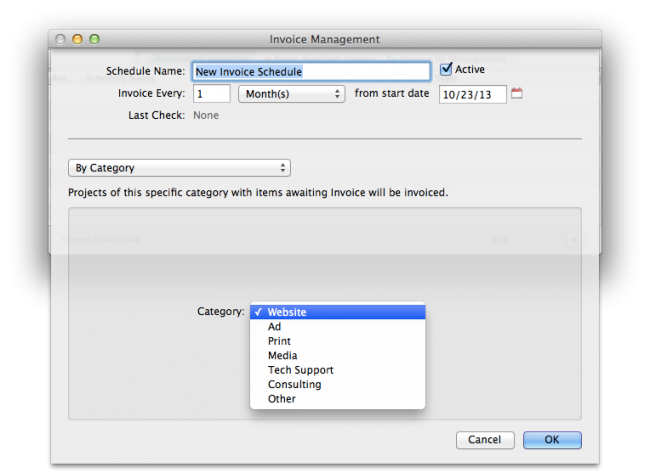 Integrations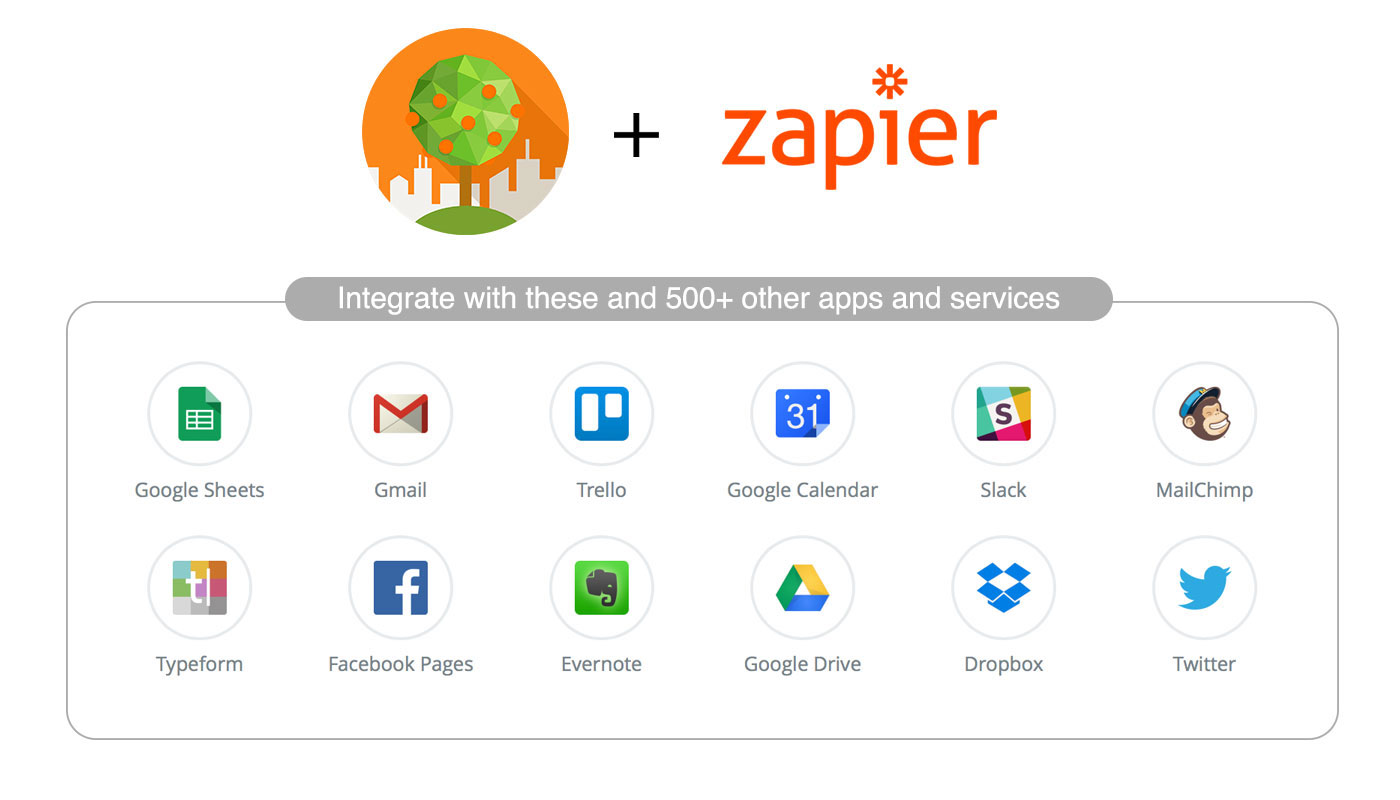 Address Book/Contacts Syncing
Studiometry can sync your contacts to and from Apple Address Book. If you change contact information in either Studiometry or Address Book, it will automatically be updated in the other. (Available for Mac OS 10.4 and later)

iCal/Calendar Syncing
Studiometry can sync your tasks, project deadlines, and invoice due dates to and from iCal, including iCloud support. Changes made in Studiometry or iCal will immediately be reflected in the other program. (Available for Mac OS 10.5 and later)

Email Integration
Studiometry can be linked with Apple Mail to automatically import emails into Studiometry as logs. Clients, contacts, projects, and even the original email will be automatically linked for simple one-click access. Other compatible email programs include Microsoft Outlook and Entourage for Mac, with more coming soon.

Quickbooks
Studiometry can export your incoming payments, expenses, and invoices to Quickbooks .iif files, which are natively accepted by Quickbooks. Smart exporting functions help you easily transfer your data from Studiometry to Quickbooks.

Accounted
Easily sync your Studiometry clients, contacts, employees, currencies, accounts, and transactions to Accounted. Several syncing options let you easily sync data into Accounted exactly how you'd like.
&nbsp